Brief History



The families were from an area in Germany known as the Probstei. It is a small region in Schleswig-Holstein, Germany just east of Kiel. Jochim and Catharina Schneekloth were from Stakendorf. Peter and Bertha Wiese were from Krummbek, where they owned and operated a store. Jochim had a sister Antje, who married Heinrich Möller and came to the United States arriving in New Orleans in December 1847 and having to stay in St. Louis until spring. Jochim and Catharina came to the United States in 1853 aboard the Bark Washington. They left Hamburg on September 03, 1853, and arrived in New Orleans on November 07, 1853. Peter and Bertha came to the United States in 1856 aboard the Louis Napoleon. They left Hamburg on April 19, 1856, and arrived at Castle Clinton in New York City on June 03, 1856. The Schneekloth and Möller families sailed from Hamburg to New Orleans and then up the Missisippi River to St. Louis and finally Davenport, Iowa. The Wiese family sailed from Hamburg to New York City. All the families were farmers living in generally the same part of Scott County. There were numerous intermarryings between the Wieses and the Schneckloths, so in 1928 our families decided to start having an annual reunion of Jochim and Peter's descendants. The last name of Schneekloth was seen by many when written as Schneckloth and so they just let it be and spelled their name that way.



The trunks the 7 member Jochim Schneekloth family packed all of their belongings in.




Schleswig-Holstein Shield.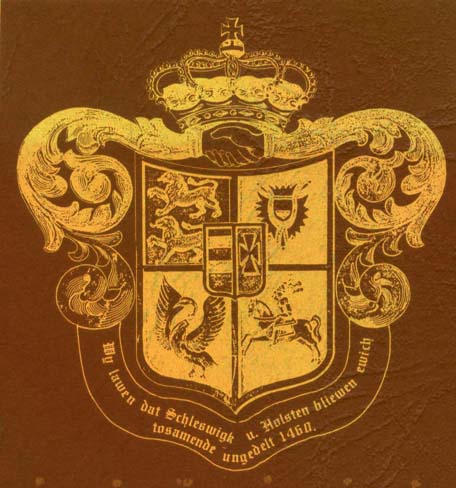 Wy lawen dat Schleswigk u. Holsten bliewen ewich tosamende ungedelt 1460.
"We love (hope) that Schleswig and Hostein will remain together forever, undivided" dated 1460.




©2012-2018